The main purpose of this project is to assist the Institution's teaching units in ongoing improvement on quality to be in accordance with the trend of international higher education. The following is the structure of the accreditation.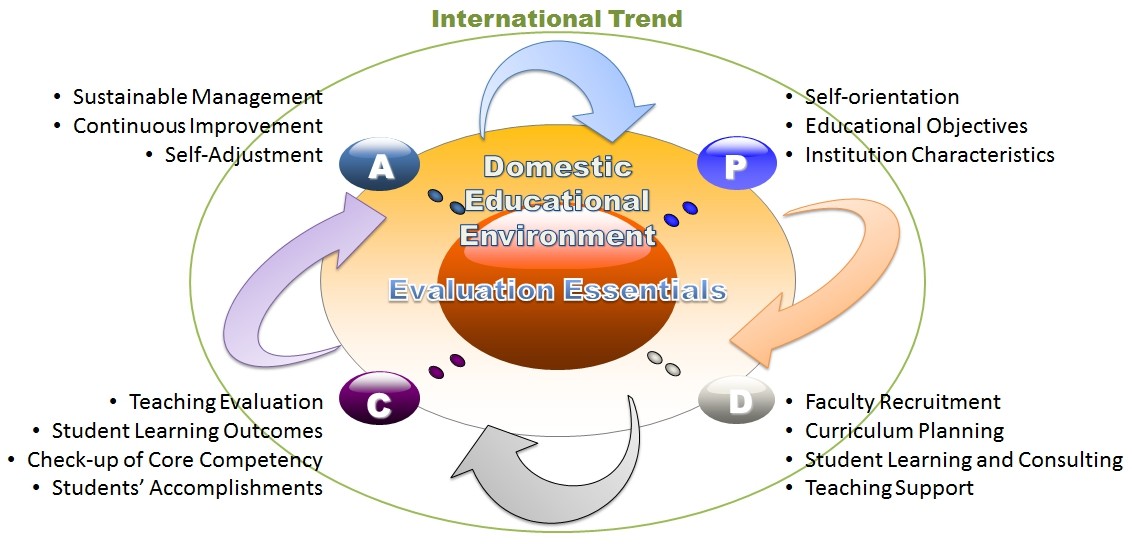 5 perspectives (Objective, Teaching, Learning, Resource and Sustainability) are designed to cope with the PDCA Cycle mentioned above. The applied unit can follow the following descriptions and refer to "Accreditation Criteria and Descriptions" and "Self-developed Characteristics" and base on their own self-made indexes to literally present the current situation.
The followings are the descriptions for different perspectives.
| | |
| --- | --- |
| 1. | Objective Perspective |
| | The perspective is aimed to set up the indexes and review the implementation progress to understand the Program/Department's operating system, characteristics, development objectives, strategic plan, teaching objectives, and students' basic competencies and professional capacities. |
| 2. | Teaching Perspective |
| | Aim to understand the curriculum design and the enhancement of faculties' teaching performance. |
| 3. | Learning Perspective |
| | Aim to understand the students' counseling system and the enhancement of students' learning outcomes. |
| 4. | Resource Perspective |
| | Aim to understand the situation of the resources' allocations, including the software and hardware facilities, room and books. Moreover, the supports to departments' administration and expenses are also included. |
| 5. | Sustainability Perspective |
| | Aim to understand and ensure the strategies for sustainable development and self-improvement mechanism. |